Family Camp: August 5-10
Rev Dr. Charlene Rachuy Cox and Tangled Blue
Title: Women of the Word: Stories from Then, in Now for All
A study of biblical matriarchs, leaders, survivors, risk takers, and anonymous women known only to us by what is remembered of their experiences and interactions with God and God's people, Women of the Word will be an opportunity to explore how these varied women speak across time and space to all people today. Using visual art, narrative theory, spoken word, contemplation, and storytelling, together with biblical exegesis, this study will bring to life biblical women as prophetic voices for the personal and public life of faith. Together, we will study texts, listen to our lives, and discern how God is speaking to all of us through Women of the Word today.
---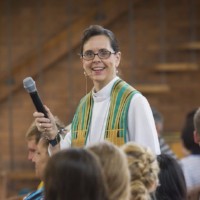 Pastor Charlene Rachuy Cox is a pastor at Valparaiso University. Influenced by the many and varied people who have crossed her life's path, Pr. Char believes that everyone has a story, and those stories matter. She is passionately committed to finding creative ways for the gospel narrative to be woven into and throughout the stories of our lives. Pr. Char is the parent of two daughters, Torie, a sophomore in college, and Elianna, a senior in high school. She loves walking with her giant schnoodle, Ari, and her Bichon/poodle, Bob, and she especially enjoys memoirs and historical fiction.
Education: Doctor of Ministry, The Lutheran Theological Seminary at Philadelphia; S.T.M., The Lutheran Theological Seminary at Gettysburg; M.Div., Luther Seminary; B.A., Augustana College, Sioux Falls
---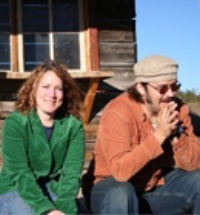 Tangled Blue (Joel & Aimee Pakan) have a unique sound that incorporates two-part vocals, Latin and electronic percussion, as well as acoustic and electronic guitars. Their music was created largely in front of audiences, so it is designed to engage the listener. Hearing these troubadours in concert with their infectious melodies is an experience the listener won't soon forget. Self described "church geeks", they have been writing musical pieces to renew the liturgy and song of the church. Check out Joel and Aimee at www.tangledblue.com



---
Registration:
Registration for summer 2018 opens online on November 6th, 2017.
Lodge or Cabin
        Adult (12 and up) - $475
        Children (3-11) - $375
        Children (under 3) - FREE
        Extended adult family member in same lodging - $350
        Extended child (3-12) family member in same lodging - $250
Family Maximum Fee - $2,000
NOTE: If you are staying in a tent or small camper (that you bring), use the cabin per person rates and subtract $150.00 off total. 

---
Information and Downloads: