NeSoDak is located on the shores of pristine Lake Enemy Swim, near Waubay, SD in the North East corner of the state. Located about 150 miles from Sioux Falls and about 70 miles from Aberdeen, NeSoDak is a short drive for a wonderful lakeside experience.
---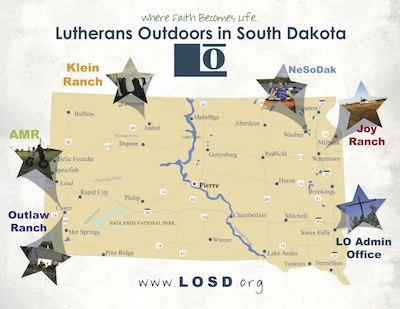 From Interstate 29:
At exit #207 on Interstate 29 take Highway 12 west.
About 10 miles (just east of Waubay) there will be a sign directing you north to our camp and the Waubay National Wildlife Refuge.
Take this paved road north about 7 miles to the next NeSoDak sign.
Go straight onto the gravel road and curve right onto the peninsula.
You will enter the camp in ½ mile. Our parking lot is in front of the Lodge just past the Chapel. Click to view map.






From the west on Highway 12:
Take Highway 12 east through Waubay.
1 mile east of Waubay will be a NeSoDak sign to turn north/left and
follow this road for about 7 miles to the next NeSoDak sign.
Follow gravel road into the camp. Click to view map.