Atlantic Mt. Ranch is located in the southern Black Hill, northwest of Custer. Programming based out of AMR concluded after the summer of 2013. Visit Outlaw Ranch, also located near Custer, for mission and adventures programs.
---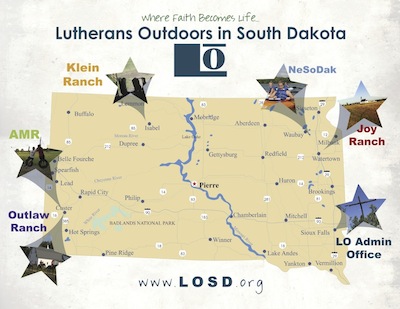 From Rapid City:
Follow Highway 16 (Mt Rushmore Rd) south through Hill City and on to the Crazy Horse Monument.
One mile past Crazy Horse is the intersection for the tourist attraction called "Heritage Village".
Turn right/west onto the gravel road (we have a green sign at the intersection).
Follow this gravel road for 4 miles (go left at the y in the road).
Watch for the LO sign. AMR's driveway is on the right.
If you are going to the Fort you will need to hike in one mile further or have the staff use a staff 4-wheel drive vehicle. Click to view map.




From Custer:
Follow Highway 16 north three miles.
Turn left at "Heritage Village" and continue on the gravel road with above directions. Click to view map.