Lutherans Outdoors' Campership Fund
---
Send a kid to camp!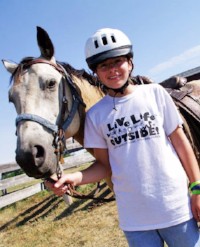 Psalm 100:5 - For the Lord is good; his steadfast love endures forever, and his faithfulness is to all generations.
Dear Friend,
Three generations - Grandpa, son and grandchildren - arrived at Klein Ranch one Sunday afternoon last summer. The dad shared how he had been touched by his week of camp at Klein Ranch in the 1970's. He knew his children would also be touched through a Christ-centered week of camp.
The children could not have come to camp without the campership they received.
Your campership gifts bless children and families like this - hundreds of times over each summer. For this, I thank you.
No child is turned away! Your gift of $100, $1,100, $275 - whatever you can send will keep this true for another summer.

Additional Good News: A challenge match has been offered to encourage donors this year. The requests are coming in - I look for your help!

Rev. Layne Nelson, Executive Director of Lutherans Outdoors in South Dakota
---