Worship and Music
Music and worship is a large part of what we do together at camp.
We gather each morning for devotion and song to start the day. We have morning worship to hear and see The Word, sing songs of praise, and gather in community. We end the day around a campfire, remembering the day, praying and singing joyfully together before a good night's rest.
Lutherans Outdoors camps are steeped in great musical tradition. Many talented artists and musicians have been resources and staff at our camps.
---
"Songs We LOve"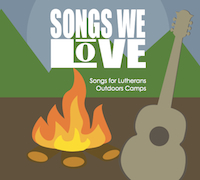 Our new camp album is now available.
The music on this album is to display and share just a small part of that tradition. This music, written by Lutheran musicians from a perspective of grace, is to be a resource to our camps and congregations in worship. So sing and play along, use these songs in worship, and support our Lutheran camps and musicians. We pray this music will inspire your walk of faith with Christ, where ever that may be. See you at camp!
---
Digital Downloads
Digital download includes the album and PDF songbook.
---
Physical CDs
CDs now available for purchase!
---
How to access: For those who purchased a physical CD, please refer to the password on your copy of the CD.
Purchased the CD but lost the password? Email mara@losd.org and she will gladly help you out.